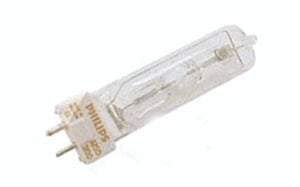 PHILIPS
MSD 200 Lamp MSD200, 34592-6, 345926
Regular price
$80.76
$80.76
Unit price
per
Brand: PHILIPS
Features:
HID Bulbs produce high output for their size making them a compact powerful & efficient light source
HID Bulbs are used for general lighting, professional lighting fixtures, growing applications
HID bulbs put out around 3-5 times greater output (lumens per watt) than traditional halogen bulbs
Philips bulb, 200W,
Base: GY9.5 2-Pin Prefocus, Rated Life (hours): , Color Temp: 6000K, LM
Details: Philips MSD 200, MSD – right light, stage bright. These single ended, compact lamps enable optimal light collection and accurate beam control, while they also provide true daylight color temperatures – all to create great stage brightness and vivid entertainment. And since the MSD 200 offers long lifetime usage it helps minimize the cost of ownership via fewer lamp replacements and fewer maintenance man hour costs.
EAN: 8727900914702
Binding: Kitchen
Item Condition: New
---