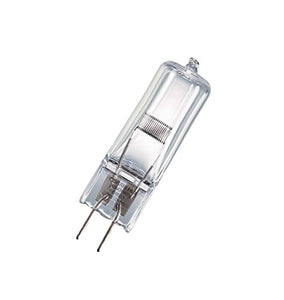 OSRAM
OSRAM EVD 64663 HLX 400W 36V Tungsten Halogen Lamp
Regular price
$6.29
$6.29
Unit price
per
Brand: OSRAM
Features:
Tungsten lamp with precision filament alignment to ensure optimal light output that is both consistent and reliable
Replacement bulb for applications in the medical & scientific fields including microscopy, fiber illumination, surgical & dental overhead lighting, laboratory analysis, and diagnostics
Wattage: 400W, Voltage: 36V, Base: G6.35, Average Lifetime: 50hrs, Special Characteristics: Enhanced output with HLX technology
HLX technology provides 10% higher luminous efficacy over standard halogen
OSRAM provides high quality for the best long term value
Release Date: 09-05-2017
Details: OSRAM offers an extensive line of low voltage halogen lamps. The state-of-the-art processes provide precision filament alignment making these lamps ideal for applications that require accurate positioning, as in the medical and scientific markets. Lamps designed as HLX utilize Xenon gas in place of Krypton and provide up to 10% greater output over the life of the lamps. A selection of extra long life lamp options are also available and are designated with an "/ X".​With over 100 years in lighting, OSRAM is a leading manufacturer for specialty lighting across many markets and is known for providing reliable, high performance products.
EAN: 4050300230351
Item Condition: New
---